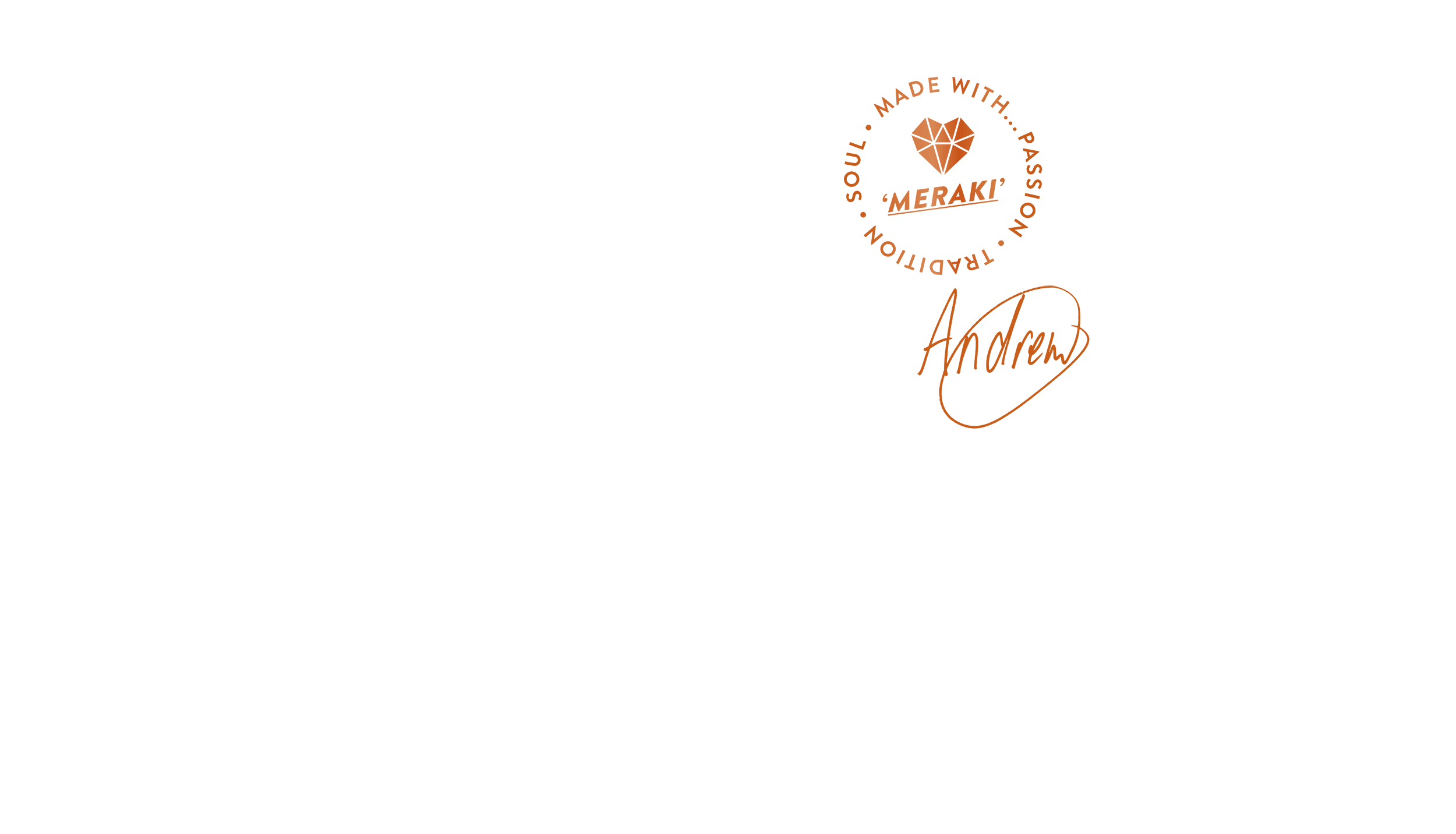 SMALLGOODS ROYALTY
At Andrew's, we're passionate about food, its origins and particularly charcuterie: the ancient art of salting and smoking. We see food as a celebration. A celebration of having access to some of the worlds best produce. A celebration of people. A celebration of cultures and traditions and a celebration of time around the table with family. It gives us great pleasure knowing that what we love doing ends up on your table to share with family and friends; from our family to yours.
Our founder and curator of happiness, Andrew Vourvahakis, was born in Melbourne; both of his parents migrated from the Mediterranean island of Crete. Having been brought up with strong family values and ties to their homeland, Andrew inherited the privilege of Greek culture and language. An ethos that allowed him to discover his 'Meraki'.
Drawing on his Greek roots, Andrew has woven 'Meraki' into all areas of his life, enabling him to show gratitude to the country that has afforded him and his family with the opportunity to thrive. To this day, he continually strives to share its meaning, as he attributes his success as a realisation of his inner passion.
Andrew's journey started in 1982, as a young boy, he spent his afternoons on an upturned milk crate at the back of a Yarraville butcher shop cleaning trays. At fifteen, he began his apprenticeship, and at eighteen, he purchased his first store from his employer.
Andrew ran that store with his father Emmanouil as 'Andrew & Emmanouils Meat Supply' until he established Andrew's Choice in 1989. During these years he discovered his endearing passion for the art of charcuterie. His passion saw him undertake further industry education and training; partnered with frequent trips to central Europe, which refined his skills and understanding in the ancient art of charcuterie.
In 1994 Andrew won the title of National Sausage King. The title was the beginning of his award-winning journey, with prestigious accolades over the following years from the Australian Meat Industry Council, Melbourne Fine Food Awards, Sydney Royal Fine Food Fair and Australian Pork Limited.
Andrew's passion for producing smallgoods led him to leave the retail sector and establish his small yet state of the art Smokehouse in Laverton North in 2006 with his wife, Alexia. To this day, Andrew and Alexia continue to bring passion and tradition to their hands-on approach each day. Their focus has never been about being the biggest; it has always been about having integrity, being authentic and only producing the best.
OUR HISTORY