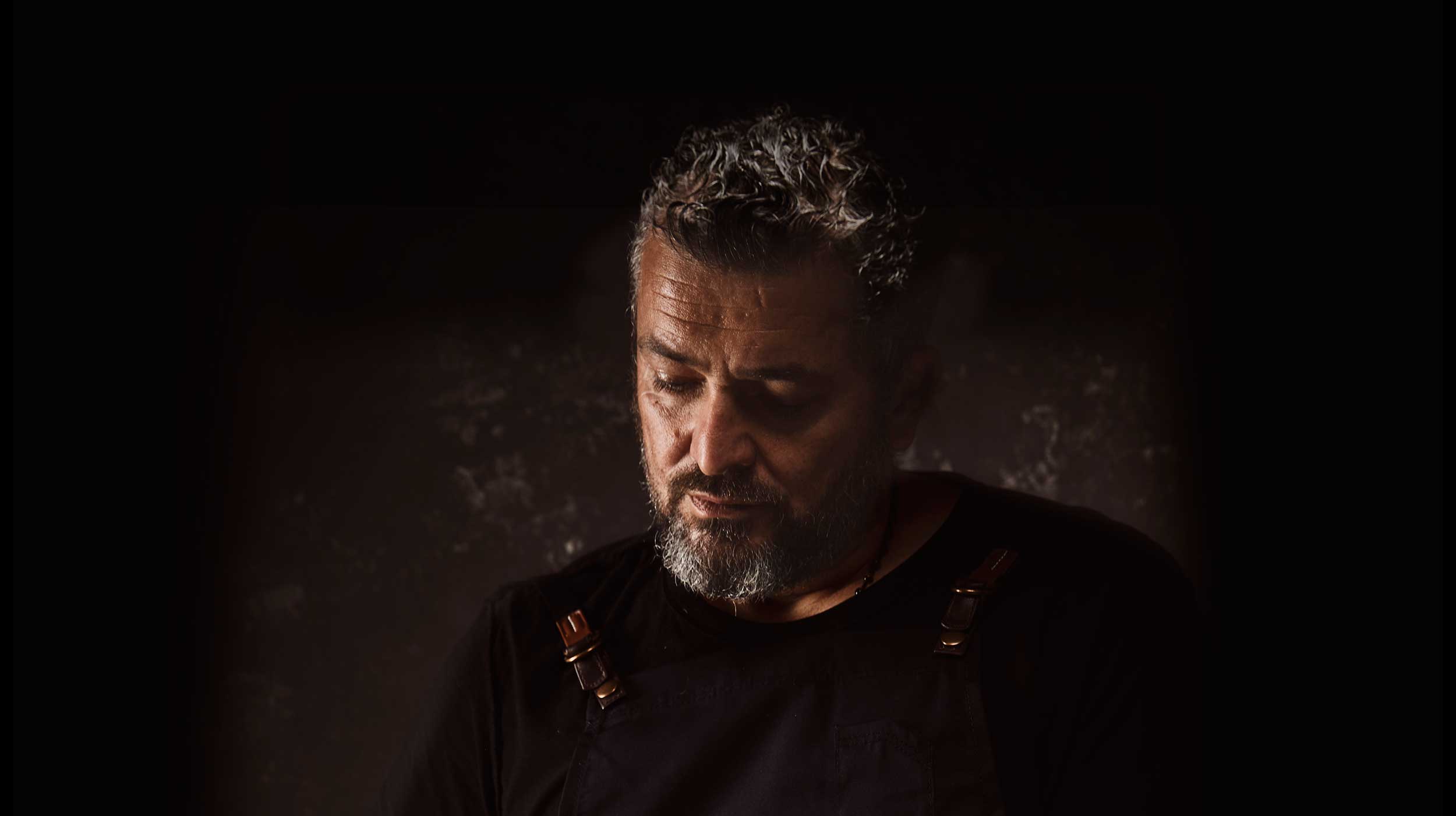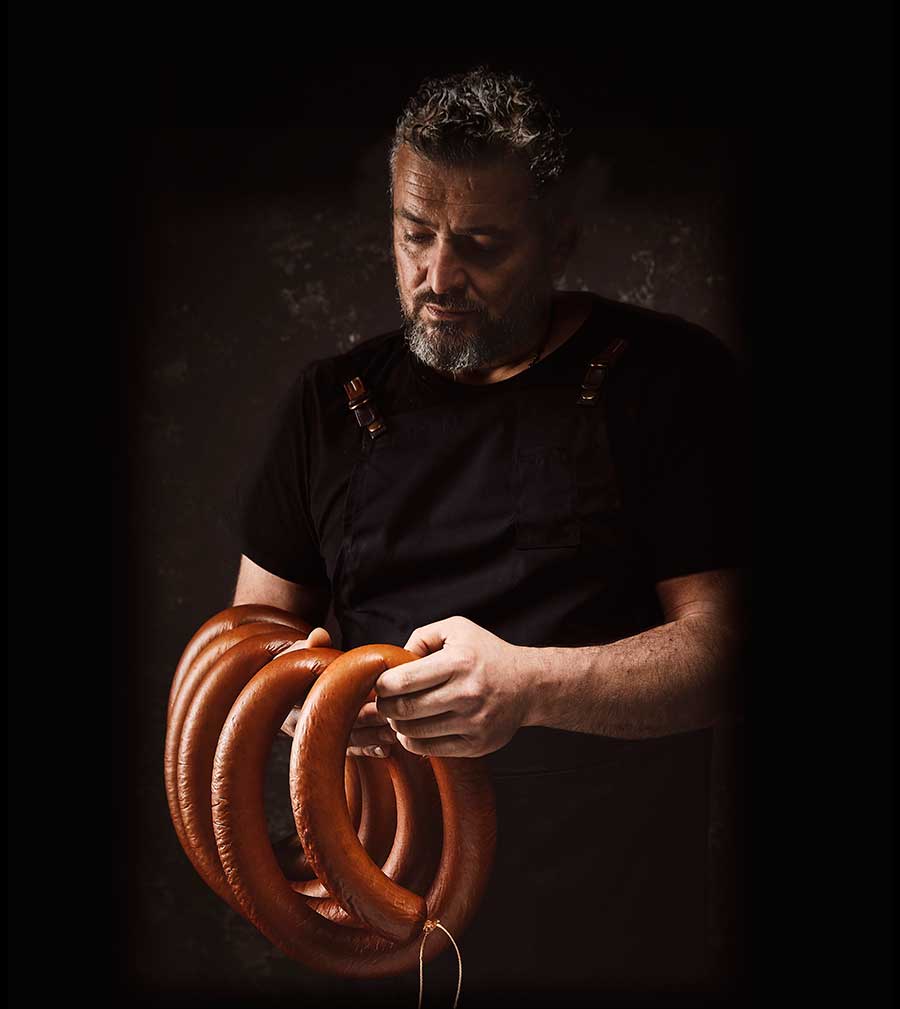 THE
SAUSAGE
KING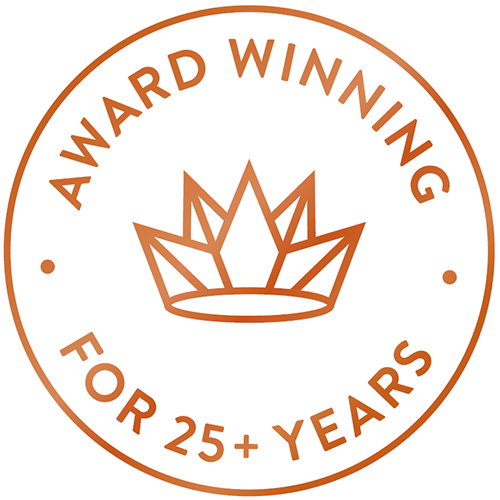 Award Winning Sausages since 1994.
Andrew takes great pride in honouring traditional spice blends to create the recipes we use today. Our range of continental cooked and smoked sausages boasts varieties from regions across Europe, with quality, authenticity and taste our holy grail. It's no wonder he's been crowned the National Sausage King.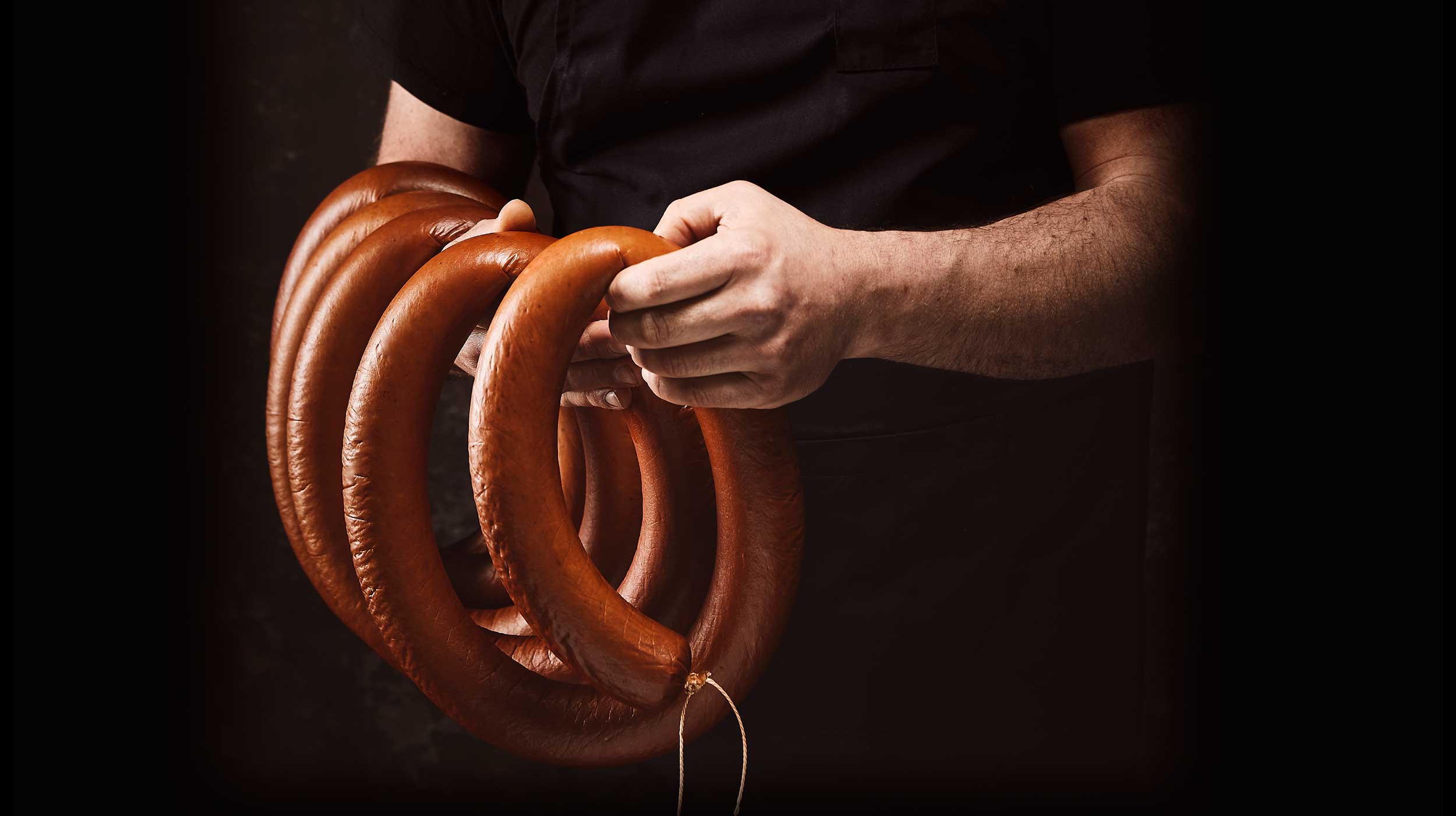 CONTINENTAL SAUSAGES
There is no doubt that we have the Romans to thank for spreading the craft of sausage making across Europe by their merchants and legions. They traded as far north as the Baltic Sea as early as 500 B.C. on their journeys through the amber road.
Over centuries on their travels, the sharing of culinary skills between countries, particularly in the preservation of preparing meat became very popular. With the addition of local spices, different climates, and cultures, the humble sausage became an art form of individuality in each region across Europe.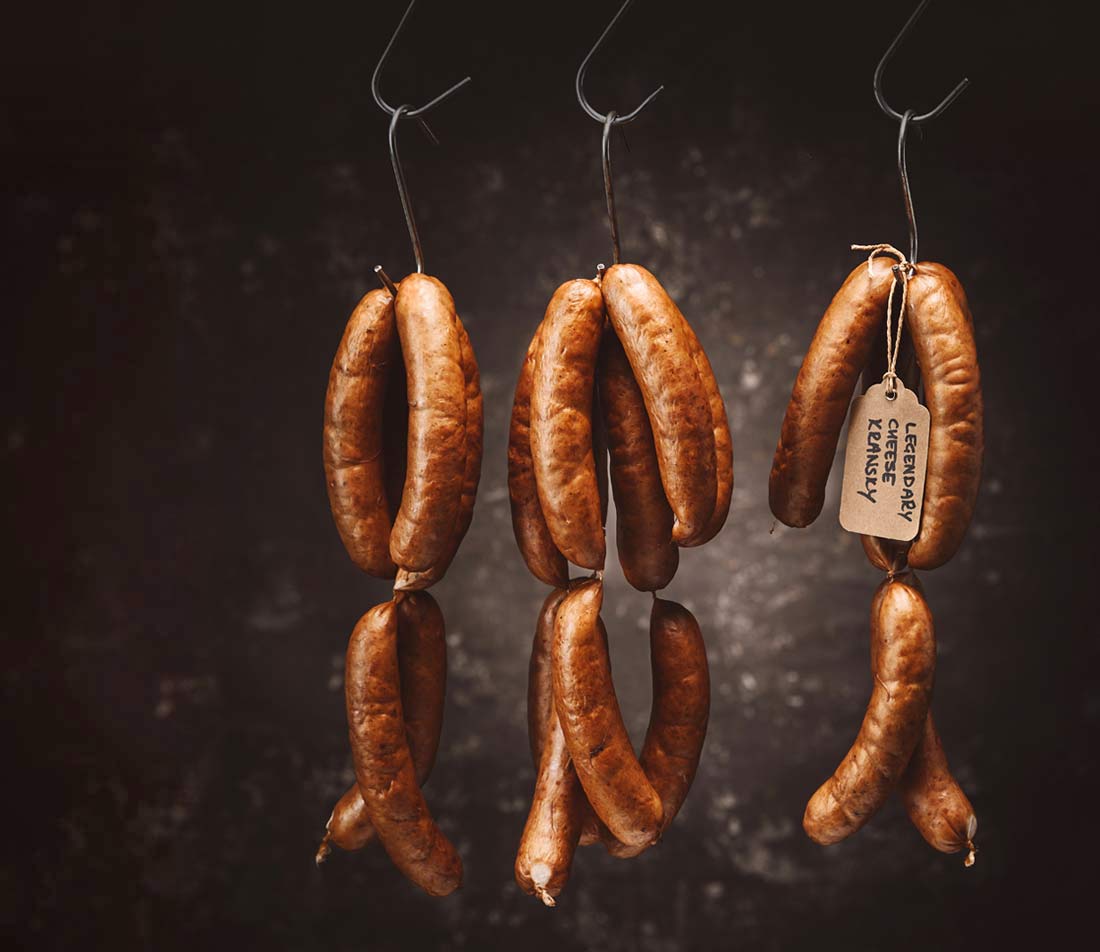 Fat, juicy and oozing with flavour, Andrew's combination of secret herbs and spices and 4-year-old vintage cheddar make this snag a winner. Having been crowned as the best sausage in Australia in 1994, and numerous times since then, Andrew's Cheese Kransky has become legendary. Synonymous with gourmet B.B.Q.'s, sensational sausage sizzles and decadent breakfasts, these are a real winner.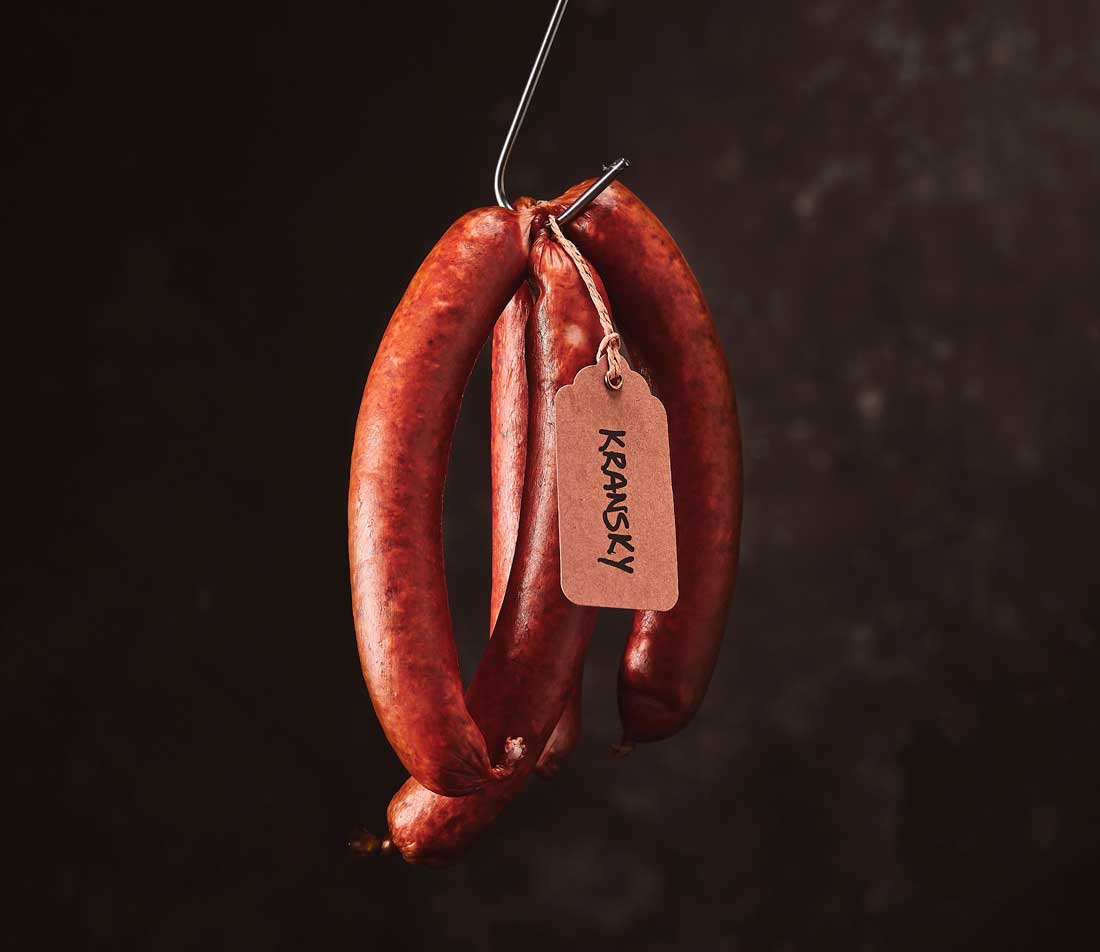 Russian, Krainer Wurst, Luganighe de Cragno are all names given to the Kransky. Originating in Kranj, Slovenia, this well-known sausage inherited its name from the location of its origin. It is a flavoursome pork sausage with a combination of coarse and fine-textured meat seasoned with our authentic blend of spices before being naturally smoked.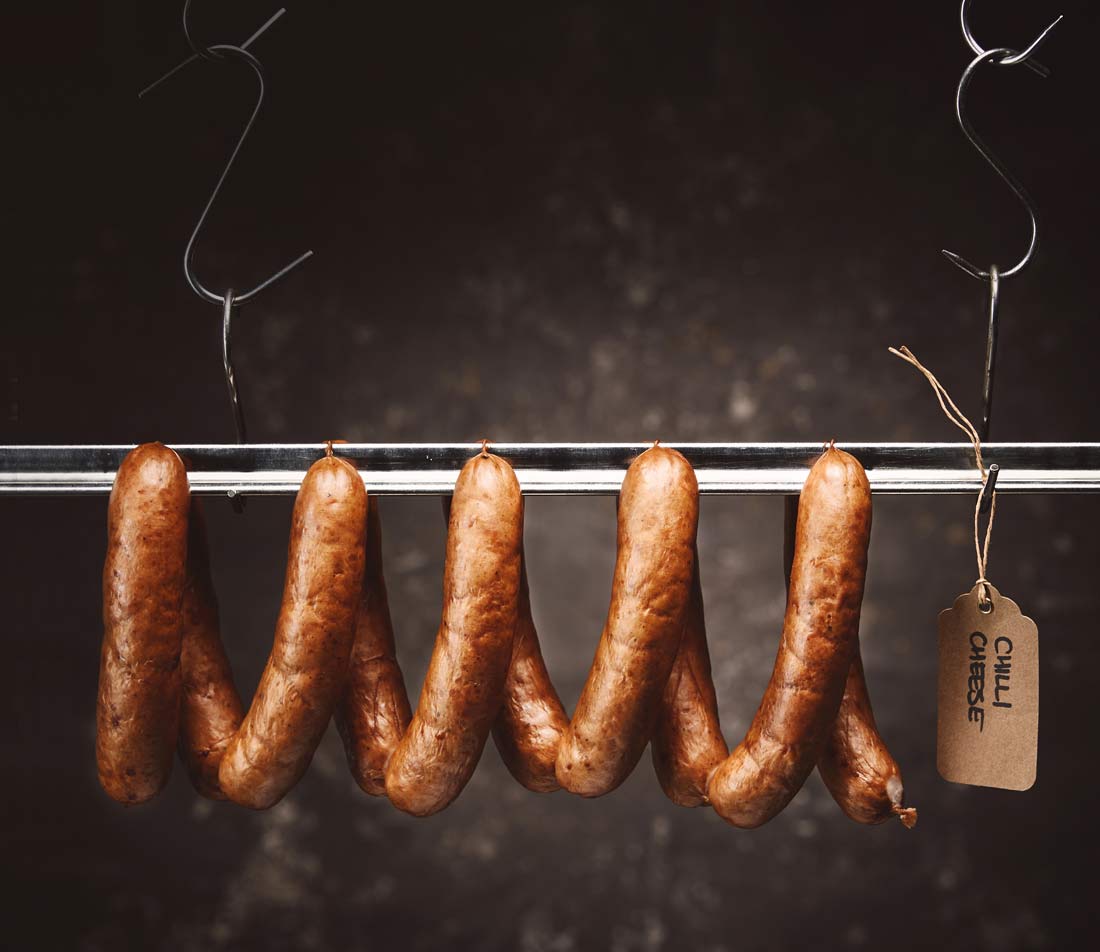 Andrew's legendary cheese kransky are laced with just enough chilli to cut through the richness of the vintage cheddar. When preparing Andrew's Kranky, it's essential to cook on low to medium heat until they warmed through. Don't poke or prick them as you'll lose all their goodness.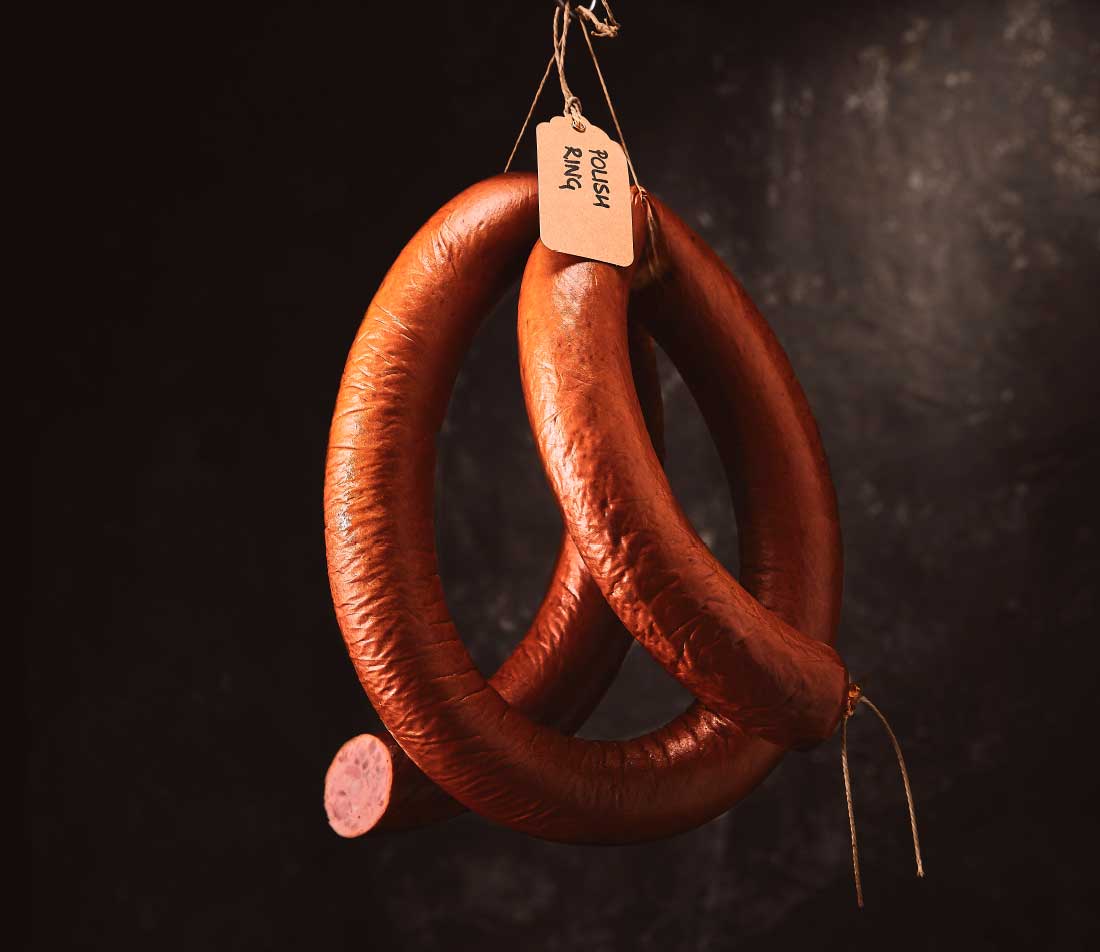 An icon in all continental deli's, Polish Rings are easily distinguished. They are a coarse-textured pork sausage infused with garlic and herbs before being filled into large loops to be naturally smoked with German beechwood. Polish Ring is eaten simply as a snack; however, it is used in many traditional hot dishes in Poland.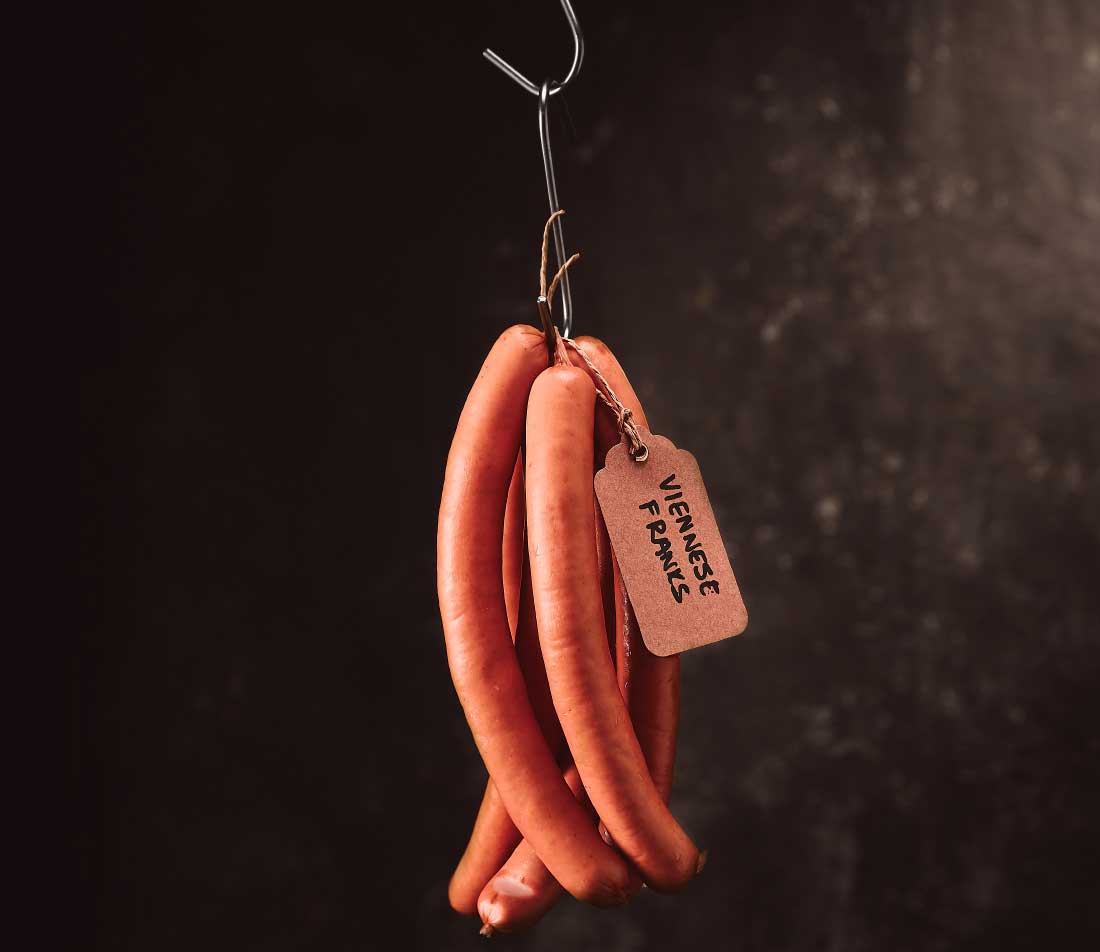 When it comes to a hot dog Andrew's Viennese Frankfurters are the real deal, winning prestigious awards around the country – named initially "Wiener Wurstchen" by the butcher Johann Georg Lahner who settled in Vienna. He brought the recipe with him from his period of apprenticeship in Frankfurt. As the sausage conquered the world from Vienna, it is known as the Wiener in the German-speaking world. Only in Austria has the name frankfurter remained. This famous pork sausage has a firm bite with a well-rounded smokey taste; They are mild in flavour and have a fine texture. Their golden-brown colour is achieved through the delicate cooking process with much T.L.C. When cooking Viennese Franks, place in a pot of cold water and bring to the boil. As soon as the water is boiling, remove them immediately and enjoy with a crusty roll with mustard.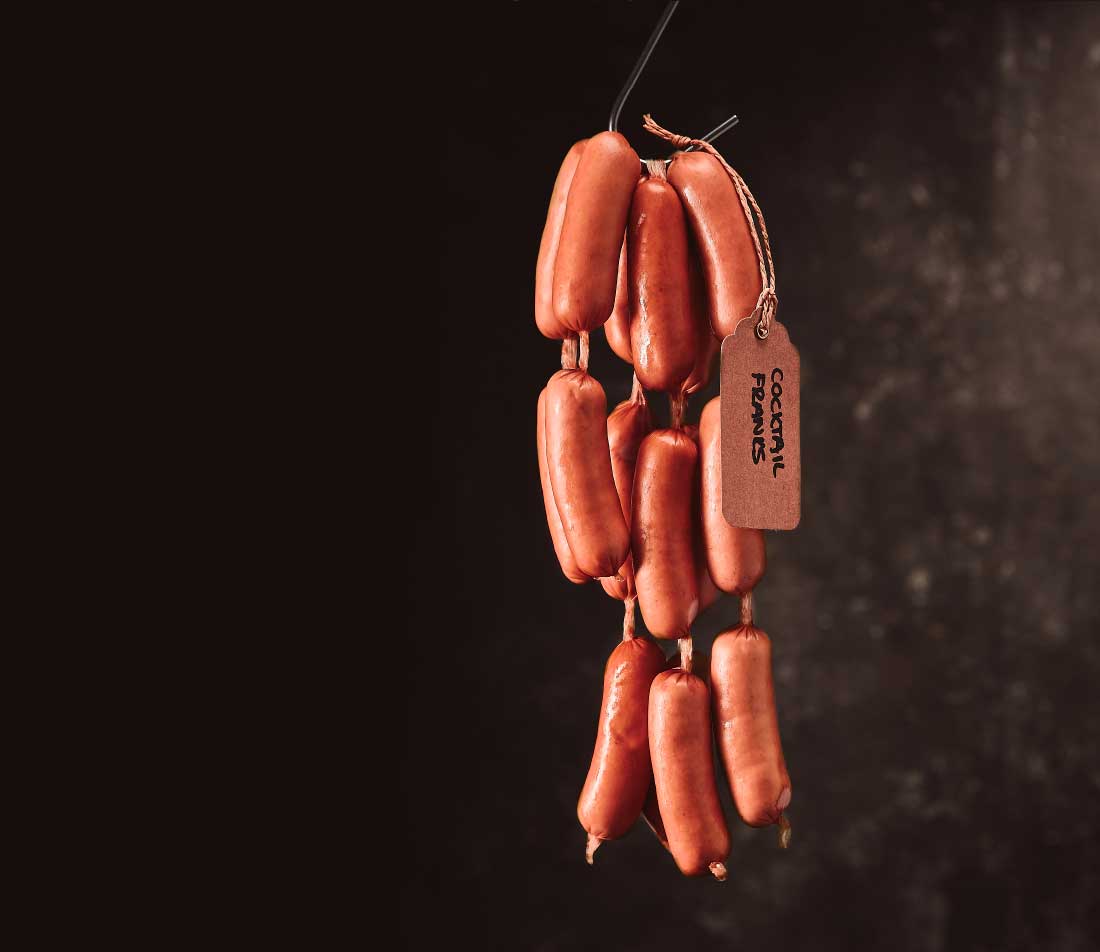 COCKTAIL
VIENESSE
FRANKFURTERS
The petit version of our award-winning Viennese Franks is made in exactly the same way just smaller. These are very popular for mini hot-dogs and great for catering. They are also the perfect choice to educate young palates on how hot-dogs should taste.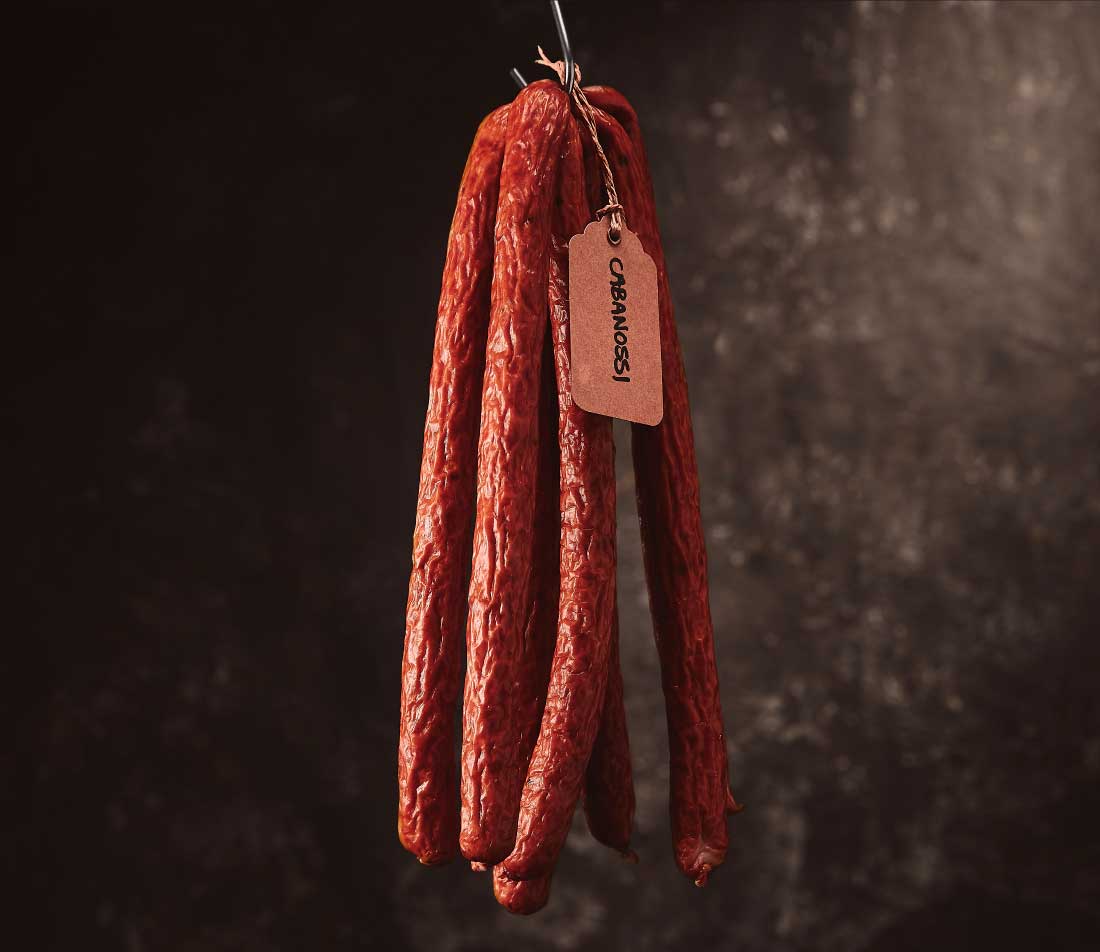 Cabanossi is a long and thin pork sausage with a wrinkled appearance from the drying and smoking process. This appearance is what distinguishes it from kabana. Traditionally served as a snack, its mild flavour makes it a popular choice for cheese boards and lunch boxes.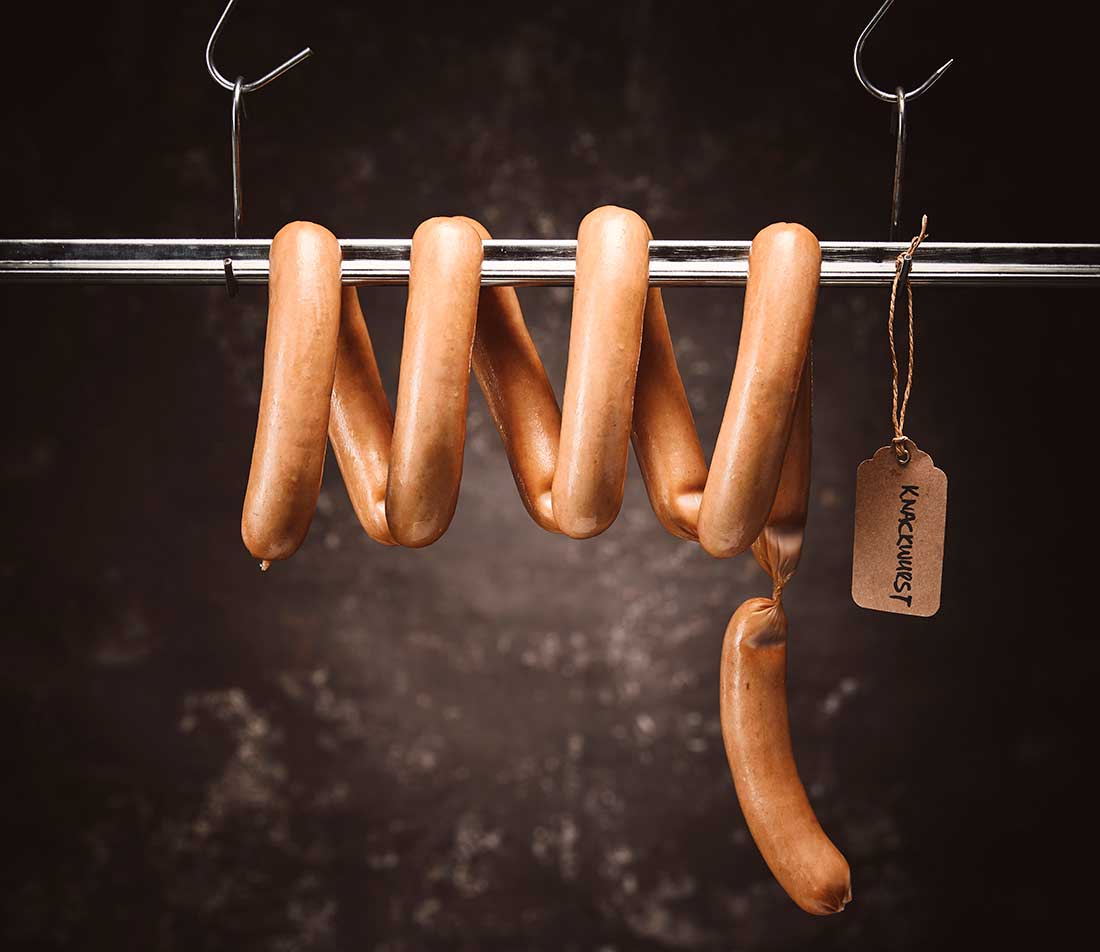 "Knack" is the sound you should hear when biting into an authentic Knackwurst. This plump sausage originating from Germany, got its name from the German word knacken which means: to crack. Its fine emulsion becomes pressurised during cooking which creates this distinct characteristic.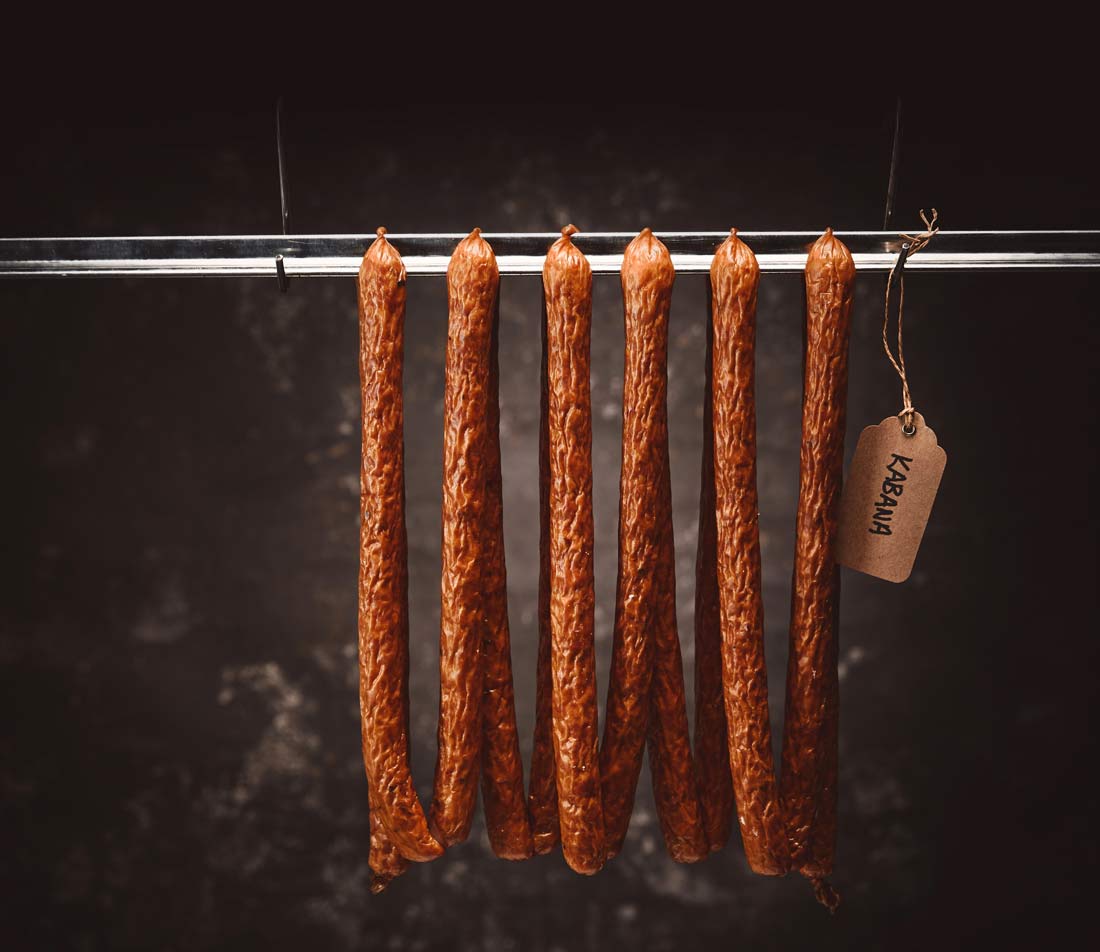 Kabana is a long, thin, smoked pork sausage mild in flavour, that has been enjoyed for decades in Australia as a snack alongside cubes of cheese, crackers and an ice-cold frothy.
Wiejska is a Polish farmhouse sausage which is amongst the most popular from that region. Made using an emulsion of pork combined with pork fillet, Wiejska is flavoured generously with garlic and carraway. Traditionally it is commonly added to stews, casseroles and soups. It is also enjoyed on its own as a snack and should be sliced thinly.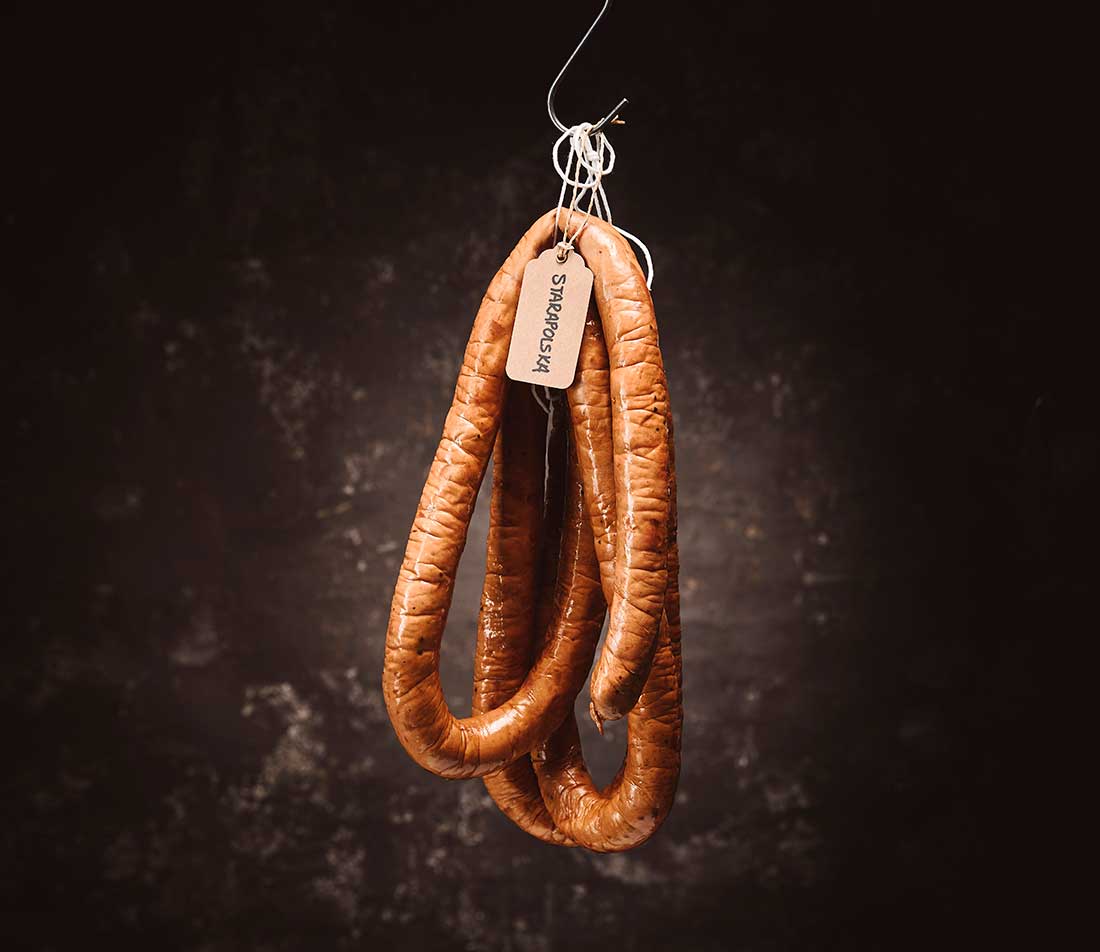 This Polish classic is also known as the Hunters sausage as hunters would take it with them on their treks to enjoy as a snack. It has a curved sickle-like appearance and is double smoked to give it a dark brown colour. Starapolska is flavoured with a blend of spices with black pepper and garlic being the most dominant.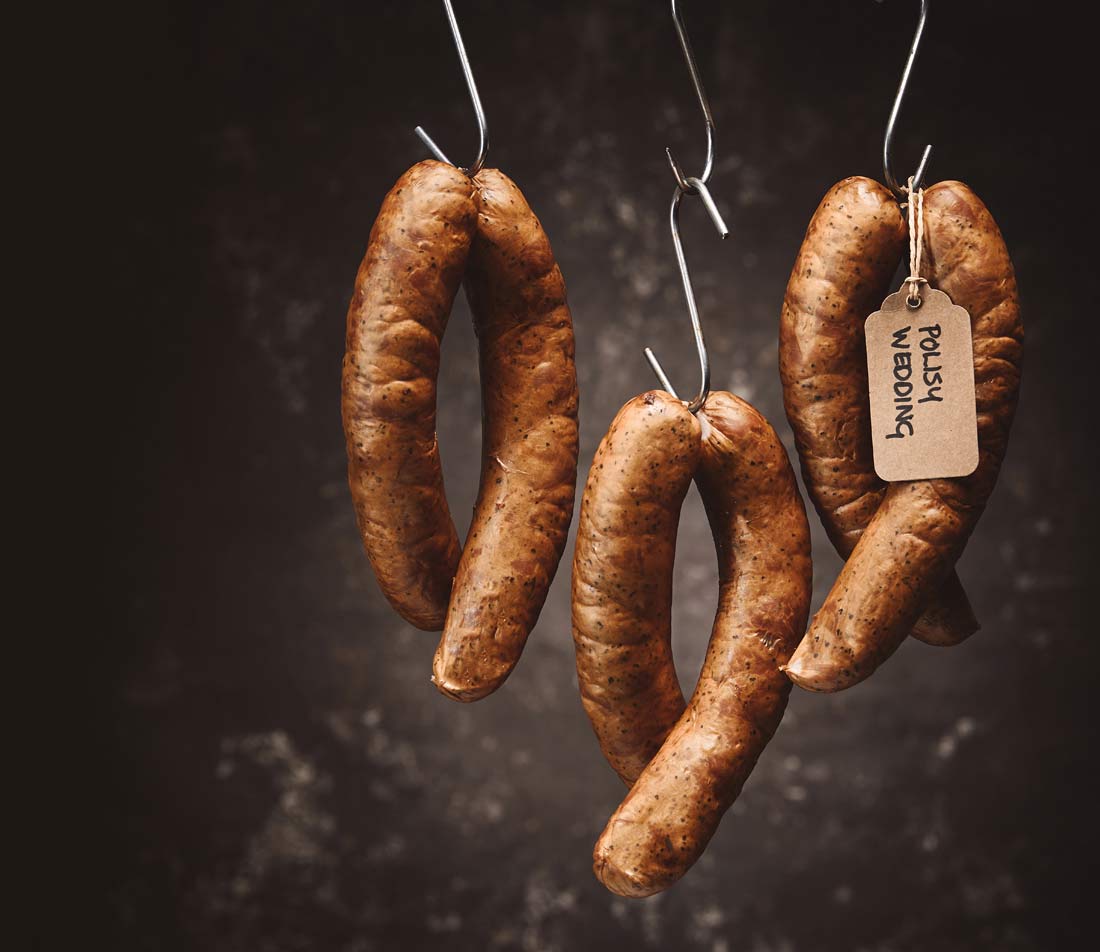 Legend has it that this sausage came about by a proud father who wanted to celebrate his daughters' marriage by serving only the best sausages to the guests at her wedding. He approached the local butcher who created a sausage using predominantly pork fillets seasoned mildly with garlic and black pepper. The result was a sausage that became synonymous with country weddings.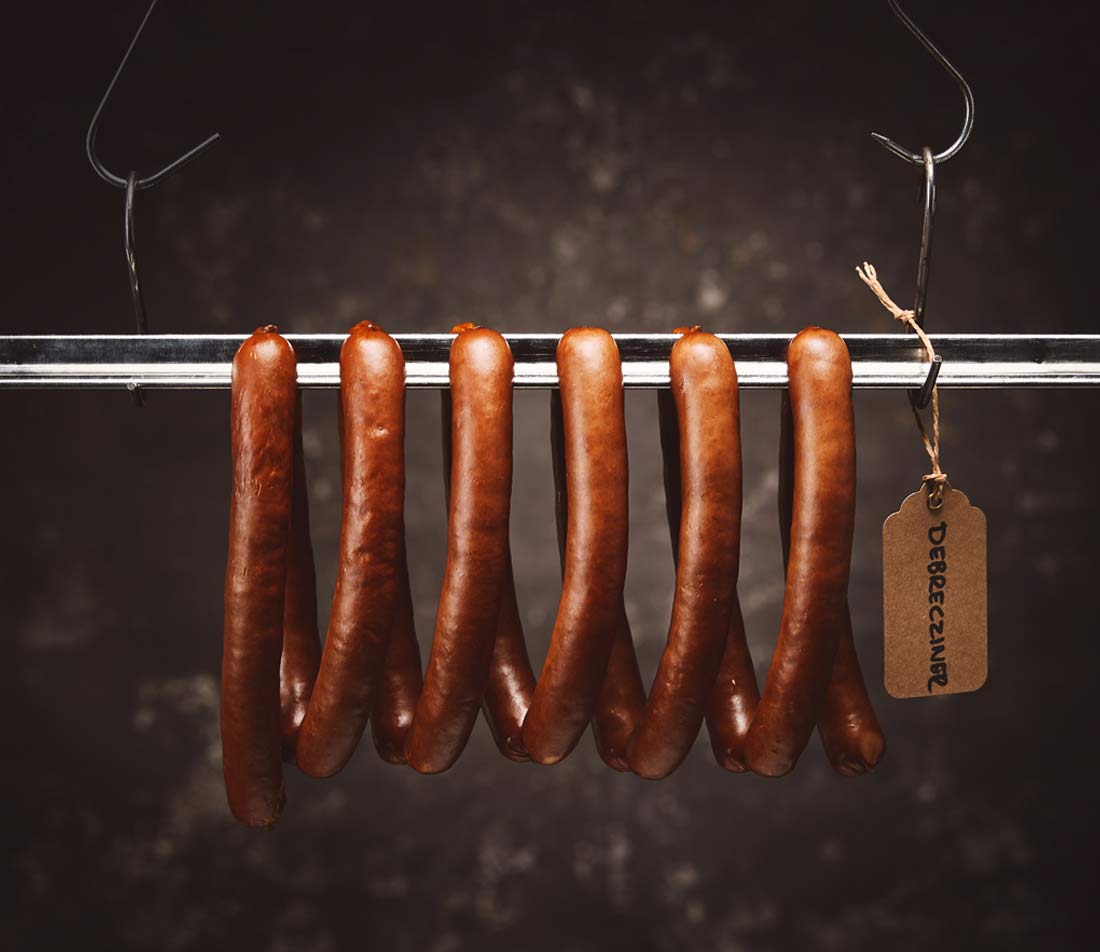 This Hungarian classic uses a selection of both beef and pork. It has a rustic, spicy blend laced with garlic and very distinct paprika notes, which give it it's reddish-orange colour. Debrecziner is hot smoked and can be enjoyed grilled or fried.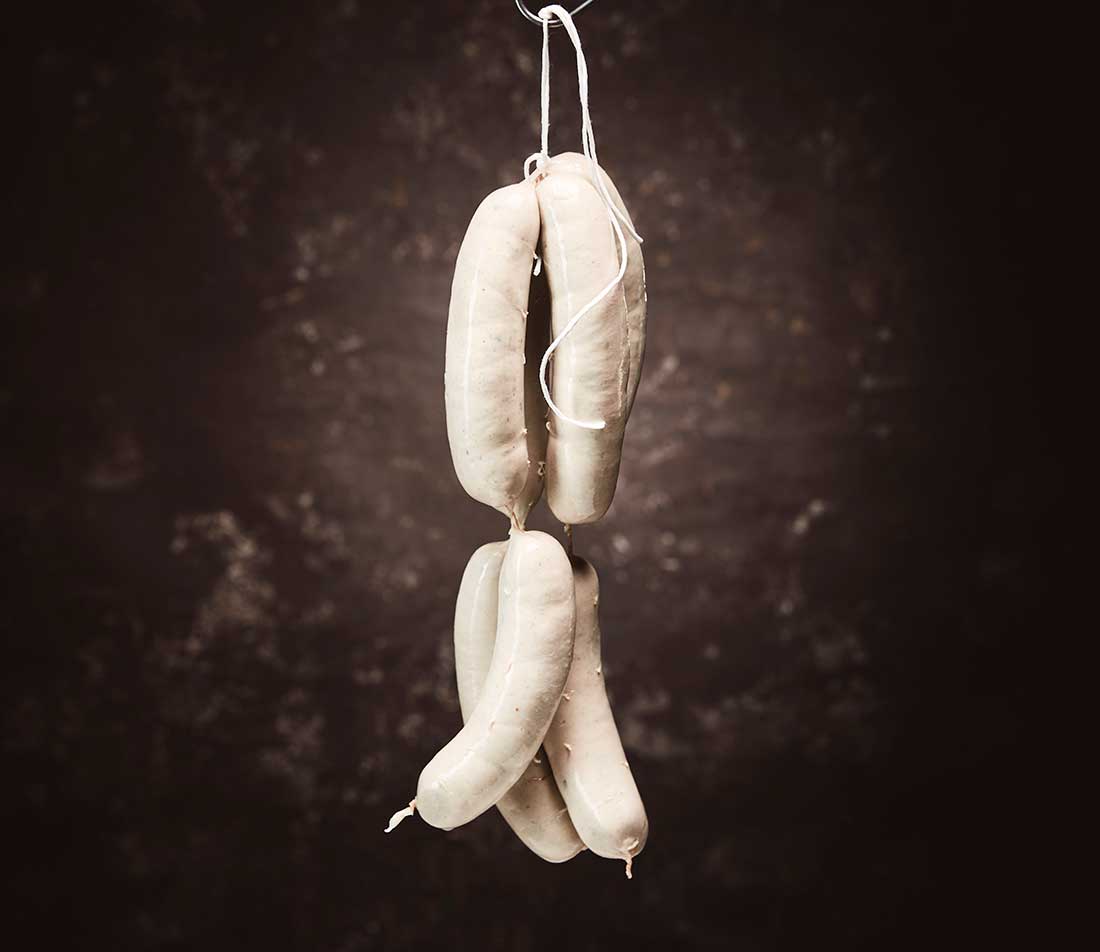 This very traditional Bavarian white sausage speciality is world-famous. No doubt the annual Oktoberfest has promoted awareness beyond Germany's borders, where it is enjoyed before noon with sweet Bavarian mustard. Weisswurst means white sausage, it is a poached sausage made from veal and pork and seasoned with fresh parsley and lemon zest.
An integral part of Spanish cuisine, Chorizo has become very popular worldwide and characterised by distinctive smoky flavour and deep red colour from the dried and smoked peppers. Andrew's Chorizo is cooked and hot-smoked and can be enjoyed thinly sliced as tapas or to flavour paellas, roasts and pastas.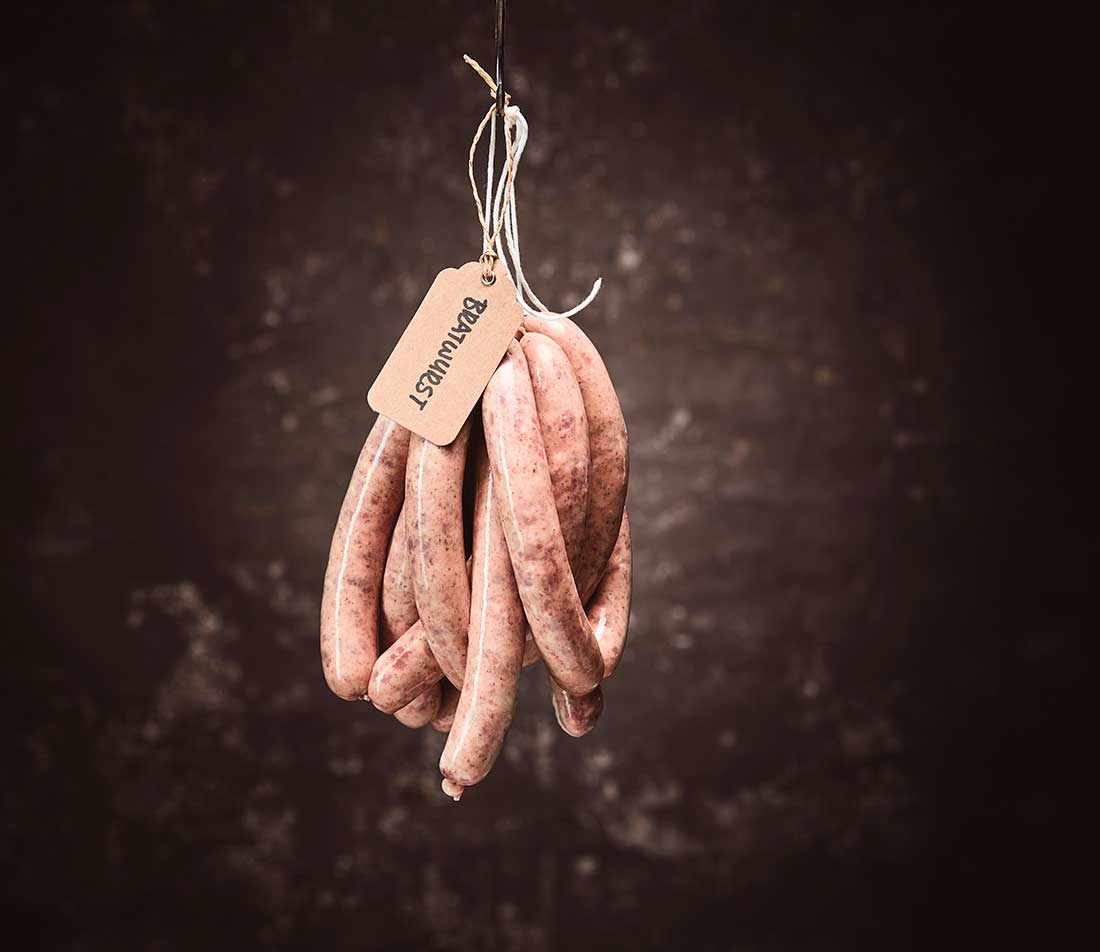 Bratwurst has been a cultural icon of Germany for centuries, and we are very proud to have achieved the Gold Award for our Bratwurst at the Sydney Royal show. The Bratwurst is a poached sausage and is almost always pan-fried or grilled before being enjoyed in a crusty roll with mustard and onions or alongside a traditional German potato salad.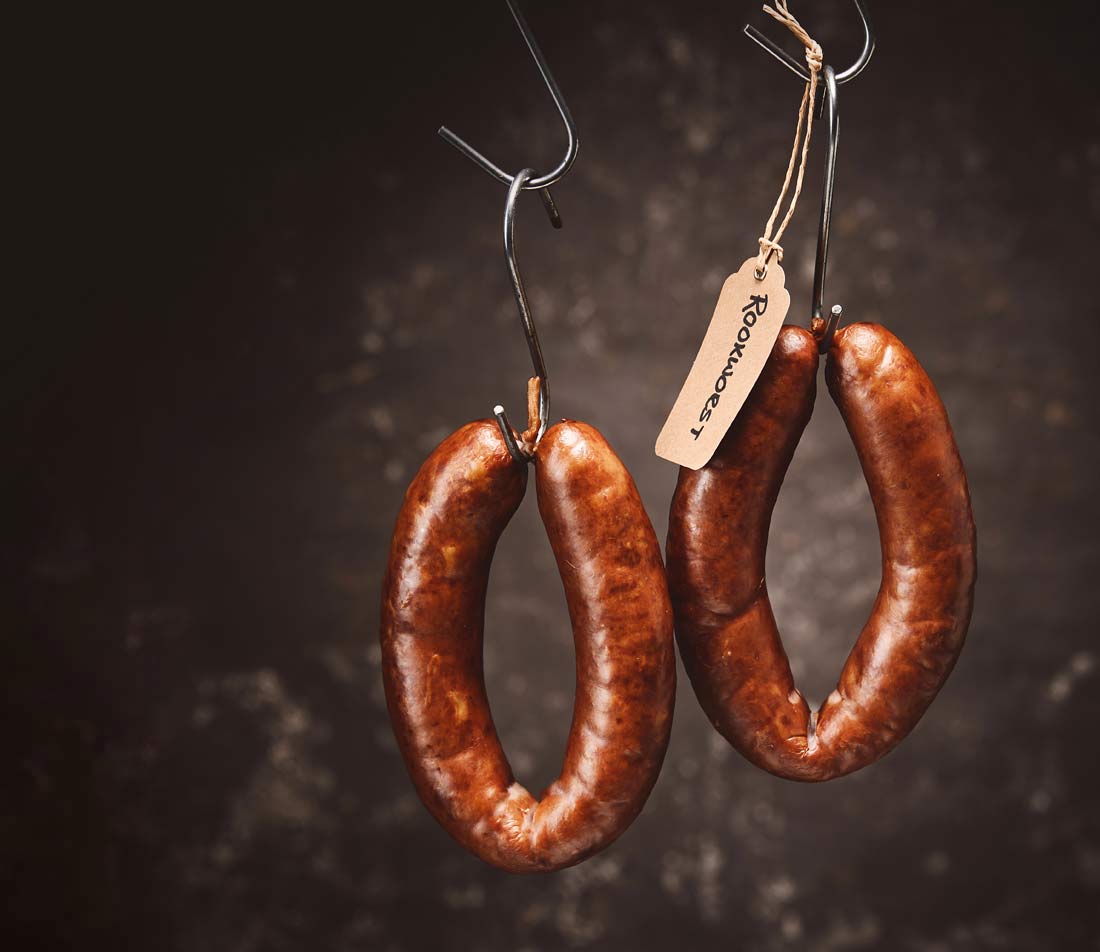 This traditional thick Dutch pork sausage is shaped like a horseshoe. Rookworst is made with pork and a delicate blend of authentic Dutch spices. Its unique cooking method of poaching and smoking gives this Dutch specialty its distinctive texture.
OUR HAPPY CUSTOMERS
Gourmet Traveller: Mitch Edwards – Australian Pork – Marketing & Communication Manager
"Ham is beautifully shaped. There's a fantastic, thick later of buttery fat with a beautifully balanced flavour."
Wendy Hargreaves – 5 of the Best
"Andrew Vouvahakis' boneless leg ham is officially the best in Australia, winning the National PorkMark Ham Awards for Excellence just a few months ago. His popular ham on the bone came second. "
L & A Bianco ~ Google review: 5 stars
"Best Christmas ham in Melbourne. Cheese kranskys and bacon taste better than every other brand."
Ricky O'Connor ~ Google review: 5 stars
"Best sausages I've ever had always helpful, tells you the best way to cook them, kranskis, knackwurst, absolutely beautiful, would not go anywhere else.10/10."
Geraldine Malady ~ Google review: 5 stars
"We buy Andrew's Choice ham at our local deli. It is the best ham we have ever eaten. Sometimes have to wait for it to be restocked. Sells quickly."
Marion Ellis ~ Google review: 5 stars
"Always delighted when a box from Andrew's Choice arrives packed with delicious food lovingly prepared to capture premium taste and freshness. Fortunately, our local supermarket also stocks Andrew's Choice smallgoods. Their hams are simply the best!"
Legendary Masterchef ~ Jacques Reymond – Herald Sun
For masterchef Jacques Reymond there's only one place for Christmas ham.
'Andrew's Choice, of course. It's certified Australian Pork. "